[READ TIME: 8 MINS]
WORDS: J'Nae Phillips
Pre-internet era, art used to belong in museums and hung in the homes of the rich and famous. But the ever-changing world of art is like a chameleon, adapting and transforming to suit the needs of each new generation that comes forth and wants to put its stamp on one of the world's oldest industries. And by today's standards, one artistic phenomenon has emerged as a powerful tool of expression and humour for this current cohort of digital natives: memes.

Memes became a go-to coping mechanism for me as I navigate the complexities of everyday life as an adult. They may not be an exact science but they break the internet as they're everything, everywhere all at once. These insider jokes take the form of images, GIFs, or videos, making them easily shareable and relatable to people across the globe. It's an IYKYK kind of thing. Whether it's poking fun at pop culture or dissecting the political landscape, the viral nature of memes has become a way for me to question and critique the world I live in.
The beauty of memes lies in their accessibility. And with meme art, I can understand it because it reflects the world around me and it just makes sense, unlike traditional, stuffy forms of art that often require specialised skills and knowledge and go over my head. It's a democratic art medium that anyone can participate in as meme lovers fill in the blanks to make sense of it all, regardless of their academic background and experience.

But what exactly is meme art? Recycling and repurposing images into a stylistic format is probably the most known, and most recognised, type of art meme. It's the stuff that litters social media feeds, and it's the content that gets shared again and again. You may have come across this type of content without even realising it. Making an art meme from scratch, however, is a whole different kettle of fish.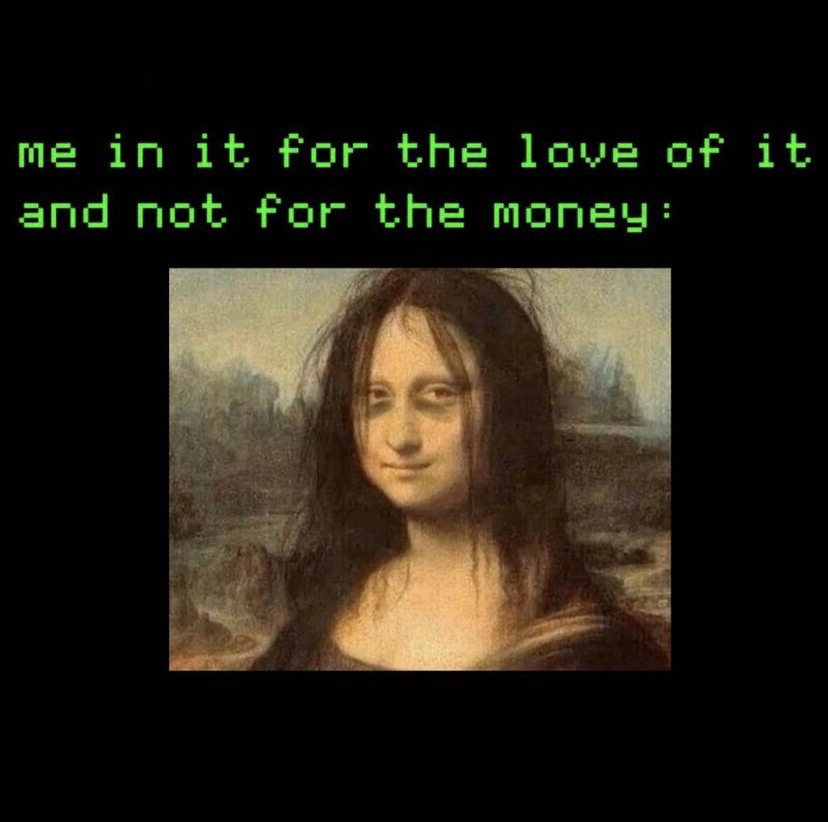 Meme creators may be seen as bedroom artists but creating a viral art meme is no easy feat. It requires skill, quick thinking and wit, and crafting the ideal vibe to convey a particular message is an art form in itself. It's why the art world was smitten with Bernie Sanders' mittens in 2021 after photos of the politician went viral at the presidential inauguration, with a slew of meme art leading Sanders' to crop up in the most unlikely of art spaces. Bernie at The Last Supper, Bernie in Van Gogh paintings, and Bernie in Georges Seurat's Sunday on La Grande Jatte were truly a sight to behold. Honestly, good for him.

Memes have become a disruptive force, questioning societal norms and sparking visual dialogues. They are the street art of the internet, for the people by the people. Memes break down the barriers between high and low culture, challenging the notion of what is considered 'serious' or 'real' art. With their tongue-in-cheek and counter-culture nature, memes are a contemporary aesthetic and social phenomenon.
While some may dismiss memes as mere entertainment, I think they are, in fact, a significant artistic movement of the digital times we live in. Memes are a product of our interconnected online world, capturing the spirit of our collective consciousness. They are a visual commentary on society, encompassing popular culture, politics, sports, fashion, and art. Memes have become a powerful medium for collective collaboration and a means to push back against conformity.

Memes can be found everywhere, from Hanmi Gallery participating at the London Art Fair in 2015 with a curatorial framework that used meme art as a way to explore the use of information via a cultural lens, to gamified NFT art marketplaces such as the BakerySwap that regularly host art and meme competitions. Art memes have infiltrated our lives and become a ubiquitous part of our visual culture due to their anti-aesthetic aesthetic appeal. It doesn't matter if they're a little bit basic, and a little bit garish, because the beauty of art memes lies in their insider knowledge and subtext. The people that get it just get it. And if you don't, well, that's on you.

Instagram accounts like Freeze Magazine [@freeze_magazine] have become a critical voice within the art community that use memes as a catalyst for cultural conversation, which eventually led to a 2022 exhibition by the artist Cem A, the brains behind the account, at the Barbican Centre in London. Jerry Gogosian [@jerrygogosian] went from making raw insider jokes about the art community to engage in deeper societal conversations. And it's these nuanced takes on meme art that makes them so memorable, as they bring unlikely worlds together that often sit so far apart.

Another Instagram account I go back to time after time is @thewhitepube, a collaborative effort between UK art writers Gabrielle de la Puente and Zarina Muhammad that claims to be the 'opposite of old white men with posh accents'. Its pop culture spin on trending topics combined with its nuanced art worldview has me hooked, and I can't get enough of its offbeat posts such as a bedraggled Mona Lisa that's in art 'for the love of it not the money' or direct call out to art curators that's both funny and a little terrifying.
In many ways, the process of meme art mirrors that of traditional artists that use a paintbrush and canvas. Both involve thinking outside the box and pushing the boundaries of creativity, even if the end result looks a little different. Meme art resonates with me because the art form is so immediate and it challenges how we think about art. Not only that, but because it's so reactive, it feels far more relevant, and that's the secret sauce to what makes meme art really, really good.

To make meme art stand out, you've got to be quick on your feet otherwise by the time you play catch up, you'll have been left behind. In this sense, one such person merging the world of digital memes and IRL art and evolving the whole concept is Travis Chapman, roofer by day and self-taught artist by night. Chapman recently started adding memeified paintings to his body of work, with a TikTok video of his Leonardo DiCaprio laughing and Kermit the Frog drinking tea in acrylics, catapulting him to overnight fame. And it's this timeliness, coupled with an old school artistic flair, that puts Chapman's art into a new category altogether. It's new-school, yes, but it's also art in the truest sense of the word. Get yourself a guy who can do both.
But what makes memes truly fascinating is their ability to capture the essence of our shared human experience. You don't need to follow niche meme groups to have stumbled across a meme that makes you chuckle and for this reason, like art, memes help us understand, critique, and share our thoughts about the world. They have become a language of their own [and have definitely affected the syntax of our spoken languages too]. Memes require creativity and understanding from both creators and audiences alike, making them one of the most interactive art forms of our times.

In recent years, memes have been brought from the URL to the IRL. Art galleries and exhibitions have embraced meme culture, recognizing their impact on contemporary society. By showcasing memes in such a way, these exhibits serve as a permanent record of their influence. Curator and digital connoisseur Maisie Post brought to life the 2016 exhibition 'What do you Meme?' that showcased a mix of Instagram meme bosses and IRL practitioners — notably all female. And an exhibition by Puerto Rican artist Jesús "Bubu" Negrón in the same year brought together the worlds of art and politics, cementing memes' place in culture. 

The art world has been forced to reckon with memes and adapt to their presence in a rapidly changing art climate. Social media accounts such as @classical_art_memes_official and @artmemescentral juxtapose traditional and well-recognised artworks with first world problems, blurring the lines between elitist art and digital culture. These accounts have lowered barriers and bridged class boundaries, and they make art more accessible to the likes of you and I, allowing us to digest art in layman's terms. And honestly, we love to see it.
As memes continue to fill our newsfeeds and capture our attention during hours of doom scrolling and internet lurking, their influence on the art world is undeniable. A [good] memes' ability to travel across the internet at lightning speed ensures that it reaches a vast network of viewers and a big ol' network of eyeballs, challenging traditional modes of art consumption. Memes are a force to be reckoned with, and their value lies in their capability to break rules while embracing an access-for-all mentality.

Memes have overturned the traditional art world by stripping away its elitist facade. We've gone from being like fish out of water, strolling around hundred-year old museums in a daze, to participating in a new type of art culture that everyone understands. Some may gawk at the prevalence of meme art, but they've become an integral part of our landscape that shapes conversations, challenges perspectives, and provides us with a much-needed dose of laughter. Memes are universal, and meme art may be a bit of a joke, but nothing escapes the gaze of an artsy meme.
J'Nae Phillips is a culture editor and writer based in London. She specialises in fashion, trends, cultural shifts and all of the good stuff that gets people talking. Follow her Instagram here.